Trump/Russia Timeline
June 2017 to present.
Part 3 of 3
(Part 1 and 2 are below this post.)
By Pokey Anderson
Most recent update: November 5, 2017.
Cartoon illustrations drawn by David Barrett – Smackiepipe Productions.
All Rights Reserved
________________________________________
This part, Part 3 of 3 includes June 2017 to the present.
Part 2 of 3 includes January through May 2017.
Part 1 of 3 includes events occurring before 2017.
________________________________________
NOTE: If you just want the icing on the cake, here are a few places to look:
1. TOP SECRET FROM NSA: RUSSIA HACKED US ELECTION INFRASTRUCTURE. THREE DAYS LATER, PRESIDENT TRUMP'S RESPONSE: FIRE COMEY. Perhaps the most stunning chronological find is that it was a Friday, MAY 5, 2017 that a top-secret NSA report was circulated internally to only the highest levels of the US government. It detailed Russia's cyber attacks against the US election and voting infrastructure. The very next working day, MAY 8, President Trump meets with a few top advisers, and says he has to get rid of FBI Director James Comey, who leads the investigation into Russian interference. [See Timeline, Part 2.]
2. INTEL SAYS IT WAS RUSSIA. TRUMP SAYS MAYBE IT WAS SOMEONE SITTING ON THEIR BED WEIGHING 400 LBS. Donald Trump, as the GOP nominee, began receiving intelligence briefings on AUGUST 17, 2016. The material presented included the intelligence community's assessment that Russia was meddling in the US election. (Bear in mind that intel chiefs and President Obama have their hair on fire, and are warning Putin directly, several times, to butt out of US elections.)
Nevertheless, in the first presidential debate with Hillary Clinton (SEPTEMBER 26, 2016), Trump refused to blame Russia: "I don't think anybody knows it was Russia that broke into the DNC. She's saying Russia, Russia, Russia, but I don't — maybe it was. I mean, it could be Russia, but it could also be China. It could also be lots of other people. It also could be somebody sitting on their bed that weighs 400 pounds, okay? You don't know who broke into DNC." [See Timeline, Part 1.]
3. TRUMP JR. MEETING AT TRUMP TOWER ON … RUSSIAN ADOPTIONS? Top Trump campaign personnel, — Donald Trump, Jr., campaign chief Paul Manafort, and the candidate's son-in-law, Jared Kushner — meet with a Russian lawyer on JUNE 9, 2016 at Trump Tower. Additional Russian attendees include a former Soviet military officer accused of hacking into a mining company's computer system and disseminating the info as part of a smear campaign by a rival. An additional Russian attendee was named by the NY Times in 2000 as responsible for using US shell companies to launder $1.4 billion.
The meeting's pretext was to provide dirt on Hillary Clinton, as "part of Russia and its government's support for Mr. Trump." After the meeting's existence becomes public over a year later, there was a parade of statements from Trump Jr.'s camp, describing the meeting as being about adoptions of Russian children, and that the meeting had no follow-up and amounted to nothing.
Coincidence or not, on JUNE 14, 2016, five days after the meeting, Russian government hackers penetrated the computer network of the Democratic National Committee and gained access to the entire database of opposition research on GOP presidential candidate Donald Trump. [See Timeline, Part 1.]
________________________________________
2017
–JUNE 1 to 14, 2017. "Detailed information on nearly every U.S. voter — including in some cases their ethnicity, religion and views on political issues — was left exposed online for two weeks by a political consultancy that works for the Republican National Committee and other GOP clients." With billions of data points, "[t]he data offered a strikingly complete picture of the voting histories and political leanings of the American electorate laid out in an easily downloadable format, said cybersecurity researcher Chris Vickery. He discovered the unprotected files of 198 million voters in a routine scan of the Internet last week and alerted law enforcement officials." The 1.1 terabytes of data included the names, mailing addresses, phone numbers, dates of birth, voter registration details, and other data that tries to predict each person's likely religion and ethnicity. Vickery works for UpGuard. The data was compiled by GOP consultant Deep Root Analytics. [Washington Post, June 19, 2017, "A Republican contractor's database of nearly every voter was left exposed on the Internet for 12 days, researcher says"] [Consumerist, June 19, 2017, "Personal Info For 200 Million U.S. Voters Left Unsecured Online"]
–JUNE 5, 2017. A top secret NSA report, dated May 5, 2017, is leaked to online publication The Intercept. The report is about Russian military intelligence efforts to attack elements of the US election and voting infrastructure. (See also August 24, 2016, October 27-November 1, 2016, and May 5, 2017.) [The Intercept, June 5, 2017, "TOP-SECRET NSA REPORT DETAILS RUSSIAN HACKING EFFORT DAYS BEFORE 2016 ELECTION"]
–JUNE 6, 2017. Sen. Mark Warner tells USA Today that "the extent" of Russia's cyberattacks around the US election "is much broader than has been reported so far." The comments from Warner, the ranking Democrat on the Senate Intelligence Committee, came one day after The Intercept reported on a top-secret National Security Agency document that said hackers associated with Russia's military intelligence agency targeted a company with information on US voting software days before the election. About an hour after The Intercept's publication, the DOJ announces that a 25-year-old government contractor, Reality Leigh Winner, is charged with taking classified material from a government facility and mailing it to a news outlet. Previously an Air Force linguist, Winner had top-secret clearance and was working in a US government facility in Georgia. She was arrested at her home on June 3. [Business Insider, June 6, 2017, "Top senator: The extent of Russia's election attacks 'is much broader than has been reported'"] [The Intercept, June 5, 2017, "TOP-SECRET NSA REPORT DETAILS RUSSIAN HACKING EFFORT DAYS BEFORE 2016 ELECTION"] [NY Magazine, June 6, 2017, "What We Know About Alleged Russia-Hacking-Report Leaker Reality Winner"]
In his first public comments since being fired, former FBI Director James Comey testifies under oath.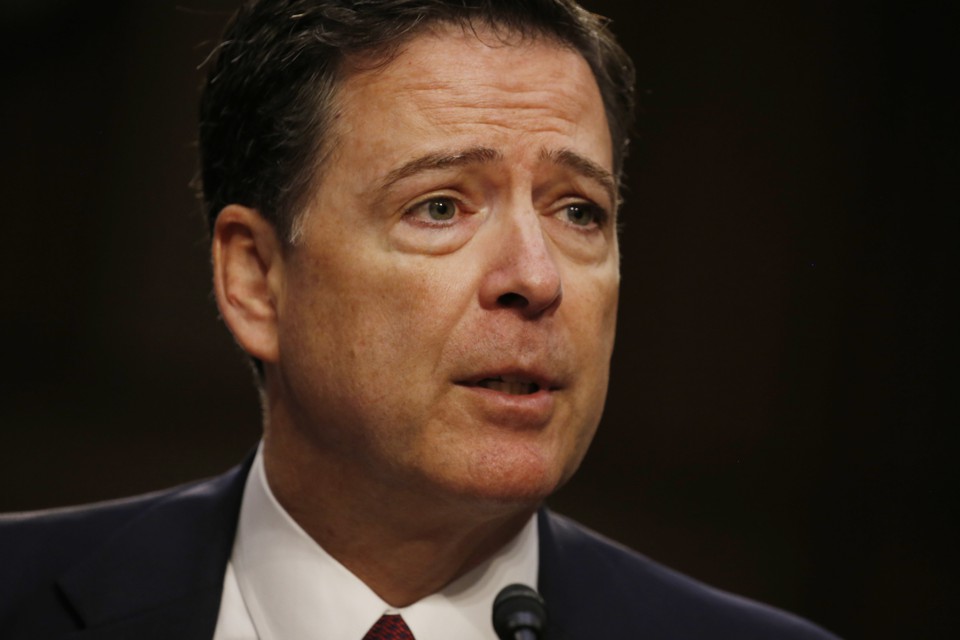 James Comey
Photo credit: Jonathan Ernest, Reuters
–JUNE 8, 2017. James Comey, the FBI director fired by Trump, testifies before the Senate Intelligence Committee on his interactions with Trump.
See Timeline entries for January 6 (Comey begins a practice of writing memos immediately after each contact with Trump), January 27 (Asking whether Comey wants to stay on as FBI Director, Trump twice asks Comey to declare loyalty to Trump while at a one-on-one dinner at the White House), February 14 (Trump kicks senior people out of the office except for Comey, and tells Comey "I hope you can see your way clear to letting this go, to letting Flynn go"), March 30 and April 11, 2017 (Trump calls Comey on both these dates, asking him to lift "the cloud" over his administration).
Asks why he believed he was fired, Comey answered: "Again, I take the president's words. I know I was fired because of something about the way I was conducting the Russia investigation was, in some way, putting pressure on him, in some way, irritating him. And he decided to fire me because of that."
Also, Comey confirmed that while Michael Flynn was Trump's National Security Adviser, Flynn was facing a criminal investigation.
Comey also testified that on three separate occasions, he did tell Trump that Trump was not personally under investigation. And, Comey said that the president was not under investigation at the time of Comey's dismissal on May 9.
Comey also testified about the substance of the Russia investigation, and a stunning lack of interest in the Russia threat from Trump:
COMEY: "The Russians interfered in our election during the 2016 cycle. They did it with purpose. They did it with sophistication. They did it with overwhelming technical efforts. And it was an active-measures campaign driven from the top of that government. There is no fuzz on that. It is a high-confidence judgment of the entire intelligence community, and — and the members of this committee have — have seen the intelligence. It's not a close call."
SEN. HEINRICH: So that was a hostile act by the Russian government against this country?
COMEY: Yes, sir.
SEN. HEINRICH: Did the president, in any of those interactions that you've shared with us today, ask you what you should be doing, or what our government should be doing, or the intelligence community, to protect America against Russian interference in our election system?
COMEY: I don't recall a conversation like that.
HEINRICH: Never?
COMEY: No.
SEN. KING: Was the Russian activity in the 2016 election a one-off proposition? Or is this part of a long-term strategy? Will they be back?
COMEY: … They're going to come for whatever party they choose to try and work on behalf of. And they're — they're not devoted to either, in my experience. They're just about their own advantage. And they will be back.
COMEY later in his testimony, re Russia: The reason this is such a big deal has — we have this big, messy, wonderful country where we fight with each other all the time, but nobody tells us what to think, what to fight about, what to vote for, except other Americans, and that's wonderful and often painful. But we're talking about a foreign government that, using technical intrusion, lots of other methods, tried to shape the way we think, we vote, we act. That is a big deal. And people need to recognize it.
[New York Times, June 8, 2017, "Full Transcript and Video: James Comey's Testimony on Capitol Hill"] [Senate Select Committee on Intelligence, June 8, 2017, James B. Comey Statement for the Record"] [New York Times, June 8, 2017, "Comey Testimony: Highlights of the Hearing"]
–JUNE 12, 2017. "In a lawsuit filed against President Trump, the attorneys general of the District of Columbia and Maryland seek to pierce the web of Trump-related proprieties and force him to make a choice: the presidency or his business empire?" Analysis of this lawsuit considers the states to be convincing plaintiffs, and also suggests that the lawsuit "may force Trump to give up financial records he has tenaciously fought to keep private." [Washington Post, June 13, 2017, "The attorneys general suit against Trump may be the most dangerous yet"]
–JUNE 13, 2017. Attorney General Jeff Sessions appeared before the Senate Intelligence Committee, to address both Russian meddling in the 2016 election, and the firing of James Comey. He was adamant that he did not collude with Russia, calling that an "appalling and detestable lie," but on other questions, he said "I don't remember" or "I don't recall" 26 times. Sessions gave vague or conflicting answers as to whether he had a meeting or encounter with Kislyak at the Mayflower Hotel on April 27, 2016; if so, that would be a third meeting in addition to the two that were initially undisclosed. He declined to answer some questions regarding conversations with Trump; his apparent lack of a legal basis to do so prompted accusations of stonewalling and impeding an investigation from some Senators. [Democracy Now, June 14, 2017, "Jeff Sessions Said "I Don't Remember" or "I Don't Recall" 26 Times During Senate Intel Testimony"]

Illustration: David Barrett – Smackiepipe Productions
–JUNE 14, 2017. "The Senate voted overwhelmingly Wednesday to allow Congress to block any efforts by the president to scale back sanctions against Russia, and to strengthen those sanctions in retaliation for Moscow's alleged interference in the 2016 election and its actions in Syria. The vote of 97 to 2 is a sharp rebuke to President Trump's posture on Russia and his resistance to the intelligence community's assessment that the country was behind efforts to influence the election he won." The House has yet to vote on the measure. [Washington Post, June 14, 2017, "Senate overwhelmingly votes to curtail Trump's power to ease Russia sanctions"]
–JUNE 14, 2017. A lawsuit is filed by 30 members of the Senate and 166 members of the House against Donald J. Trump, claiming continuing violations of the Foreign Emoluments Clause of the US Constitution. This is the third lawsuit against Trump for violations of the emoluments clause. [Civil Action, June 14, 2017, Complaint, US District Court for the District of Columbia.] [Slate, June 14, 2017, "Donald Trump Is Now Facing Three Emoluments Lawsuits"]
Special Counsel Robert Mueller has been widening his probe. The prongs include not just Russian election meddling and possible collusion, but whether the Trump administration has obstructed justice. Also, investigators have been looking at potential financial crimes among Trump associates. Top White House officials have been lawyering up, including Trump, Sessions, Pence and Kushner.

Robert Mueller
Photo credit: CNN
–JUNE 14-15, 2017. In a turning point in the investigation, Special Counsel Robert Mueller has been widening his Russia probe to investigate whether President Trump has obstructed justice. The broader probe began days after Comey was fired by Trump on May 9. Mueller's investigation will include interviews of senior intelligence officials, including Dan Coats and Admiral Mike Rogers. Richard Ledgett, Rogers' deputy until recently, is also included; a source tells CNN that "Ledgett wrote a memo … documenting a conversation in which President Donald Trump allegedly urged Rogers to help get the FBI to lift the cloud of the Russia investigation." On another front, "[i]nvestigators have also been looking for any evidence of possible financial crimes among Trump associates, officials said." The Washington Post cited as sources officials and others.
In summary, the three prongs of investigation under Special Counsel Mueller are believed to be: (1) Russian election meddling, with possible collusion with the Trump campaign; (2) Possible attempts to obstruct justice; and (3) Possible financial crimes. [Washington Post, June 14, 2017, "Special counsel is investigating Trump for possible obstruction of justice, officials say"] [CNN, June 15, 2017, "Source: Investigators for special counsel will soon speak to senior intelligence officials"] [Washington Post, June 15, 2017, "Three prongs of the Russia investigation, explained"]

Donald Trump
Photo credit: Jabin Botsford/The Washington Post via Getty
–JUNE 15, 2017. Using a phrase that will be repeated often, Donald Trump tweets: "you are witnessing the single greatest WITCH HUNT in American political history – led by some very bad and conflicted people! #MAGA" [Washington Post, August 7, 2017, "'Fake news'? The Russia investigation is getting very, very real."]
–JUNE 15, 2017. Vice President Pence has hired outside legal counsel to assist with congressional and special investigations into possible collusion between Trump's campaign and Russia. The attorney, Richard Cullen, has previously served as a US attorney in the Eastern District of Virginia. [Washington Post, June 15, 2017, "Pence hires outside counsel to deal with Russia probe inquiries"]

Michael Flynn
Photo credit: NBC News
–JUNE 19, 2017. Senator Sheldon Whitehouse, a former prosecutor, told CNN's Wolf Blitzer that evidence is pointing toward fired National Security Adviser Michael Flynn now cooperating with FBI investigators. Whitehouse says he has 'connected dots' of unrelated evidence to deduce this conclusion. "'All the signals are suggesting [Flynn] is already cooperating with the FBI, and may have been for some time. First of all, they had him dead to rights on a felony false statement, on the statement they took from him at the White House on the Kislyak conversations. Second, Comey reported that one of the things the FBI does with cooperators is get them to go back and clean up areas of non-compliance. Flynn, who will never be hired by a foreign government again, went back and cleaned up his foreign agent filings. Third, all of the reporting of the Eastern District of VA on subpoenas is one hop away from Flynn. He is the hole in a donut of subpoenas,' he said. He continued: 'One of the most talkative people in Trumpland [Flynn] has gone absolutely silent. That is exactly what a prosecutor would strongly encourage a cooperating witness to do… in order to avoid lengthy imprisonment.'" [Real Clear Politics, June 19, 2017, "Sen. Sheldon Whitehouse: Tons Of Evidence Mike Flynn Is Cooperating With FBI; 'Who Knows What Trump Said To Him?'"]
–JUNE 19, 2017. Ranking Democrats on two House committees are looking into additional unreported foreign connections of Michael Flynn. They expanded their probes by requesting documents from Michael Flynn's consulting firm and two other companies regarding a trip Flynn took to Saudi Arabia in June 2015. This trip was apparently not reported on Flynn's security clearance renewal. "He did report a later trip to Saudi Arabia on his security form, but left out important details, says the joint letter from Representatives Elijah E. Cummings and Eliot L. Engel, the ranking Democrats on the House Government Oversight and Foreign Affairs committees, respectively." "Newsweek reported on June 9 that Flynn had traveled to Egypt and Israel in the summer of 2015 as an adviser on a project to pursue a joint U.S.-Russian-Saudi business venture to develop nuclear facilities located in—and financed by—Saudi Arabia." These matters are new developments, in addition to the legal jeopardy Flynn was already facing. Newsweek: "[Flynn] was … involved in one of the most audacious—and some say harebrained—schemes in recent memory: a plan to build scores of U.S. nuclear power plants in the Middle East. As a safety measure." [Newsweek, June 19, 2017, "MICHAEL FLYNN, TRUMP'S EX-NATIONAL SECURITY ADVISER, IS TARGET OF NEW HOUSE INQUIRY RELATED TO HIS DEALINGS IN SAUDI ARABIA AND THE MIDDLE EAST"] [Newsweek, June 9, 2017, "MICHAEL FLYNN, RUSSIA AND A GRAND SCHEME TO BUILD NUCLEAR POWER PLANTS IN SAUDI ARABIA AND THE ARAB WORLD"]

Illustration: David Barrett – Smackiepipe Productions
–JUNE 20, 2017. AG Jeff Sessions has hired long-time confidante Charles Cooper as his private attorney, the DOJ announced. Other members of the administration with recently-hired private attorneys include Trump, Pence, and Kushner. [Reuters, June 20, 2017, "U.S. Attorney General Sessions hires private attorney"]
–JUNE 21, 2017. In a letter, "18 members of the House Oversight and Government Reform Committee said they have 'serious concerns' about how the White House is handling classified information and who is being allowed access to such sensitive material. The letter, citing press reports, singles out Kushner for failing to disclose numerous contacts with foreign officials on his security clearance questionnaire. It also questions why the White House allowed Flynn to have access to classified information after learning that he had misled administration officials about the content of conversations with a Russian diplomat." [Washington Post, June 21, 2017, "House Dems pressure WH on Kushner, Flynn security clearances"]
–JUNE 22, 2017. Two watchdog groups, Citizens for Responsibility and Ethics in Washington and the National Security Archive file a lawsuit against Trump and his office, alleging that the White House is not complying with the Presidential Records Act. As examples, the lawsuit cites news reports about White House aides using "certain email messaging applications that destroy the contents of messages as soon as they are read, without regard to whether the messages are presidential records," as well as tweets from Trump's account that have been deleted after they were sent. [Politico, June 22, 2017, "Lawsuit accuses Trump of violating federal records law"]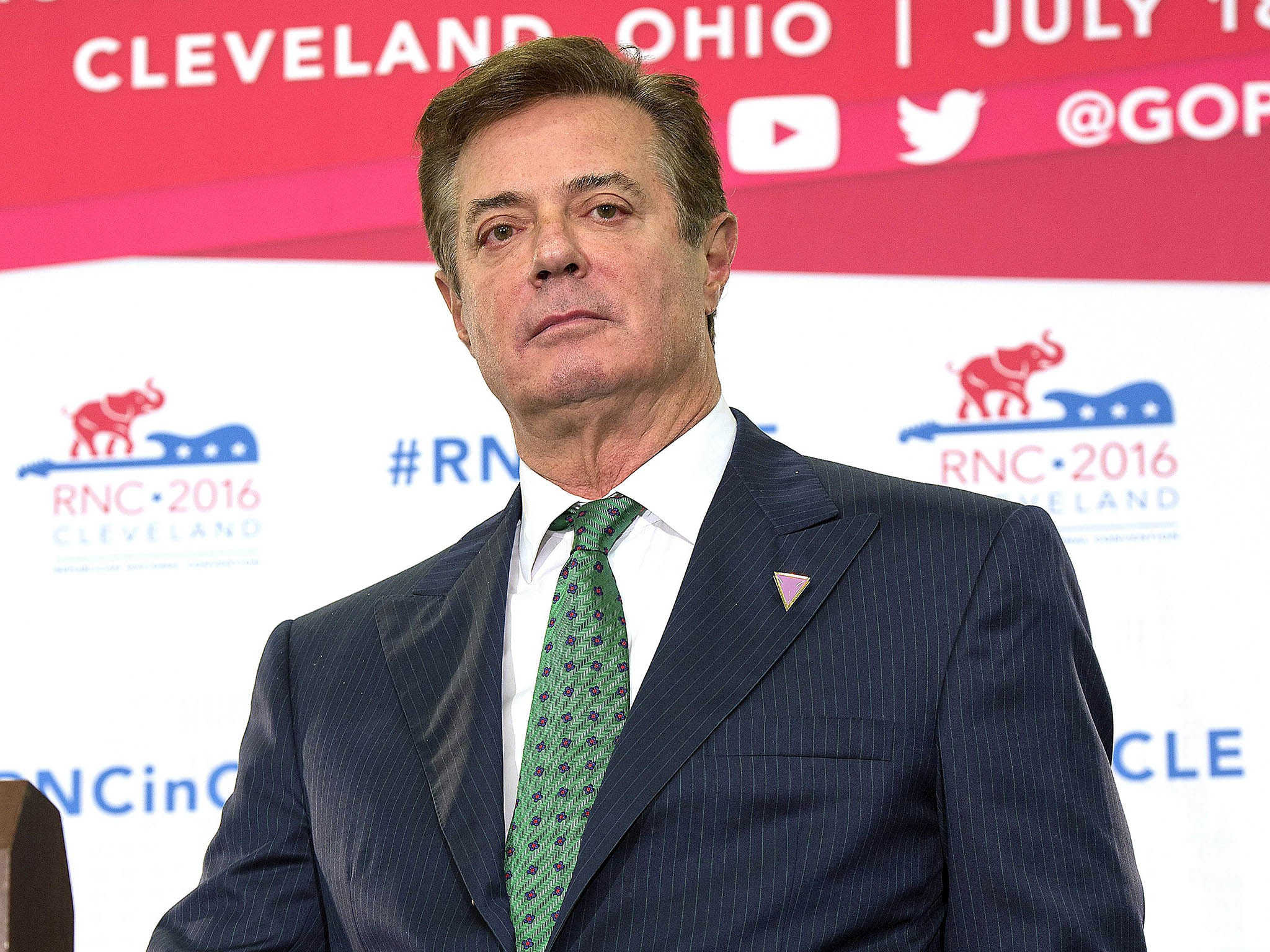 Paul Manafort
Photo credit: Independent UK
–JUNE 27, 2017. Paul Manafort's consulting firm retroactively filed forms showing that the firm received over $17 million during 2012-2014, from a political party that dominated Ukraine before its leader fled to Russia in 2014. Manafort was chair of Trump's presidential campaign for several months during 2016. He is the second senior Trump advisor to retroactively file forms acknowledging work for foreign interests. (Michael Flynn filed a retroactive foreign agent disclosure in March.) "Manafort resigned from the campaign in August 2016, following reports by the New York Times that his name had appeared in a ledger found in Kiev detailing millions of dollars in under-the-table payments from the Party of Regions. Manafort has consistently denied wrongdoing and said that reports alleging that he received funds improperly from Ukrainian interests are false." [Washington Post, June 27, 2017, "Former Trump campaign chairman Paul Manafort files as foreign agent for Ukraine work"]

Trump and Sergey Kislyak in the Oval Office
Photo credit: Russian news agency TASS
–JUNE 27, 2017. Sergey Kislyak, the Russian ambassador to the US, will leave his post and return to Moscow. A Russian spokesperson says the move was planned in advance. His departure date is unknown, but a farewell dinner will be on July 11. Kislyak drew attention for, among other things, secret meetings and contacts with associates of Donald Trump like Michael Flynn and Jeff Sessions, meetings that were disclosed many months later. Anatoly Antonov will be the replacement. [CNN, June 27, 2017, "Controversial Russian ambassador Sergey Kislyak is leaving the US"]

Presidential Advisory Commission on Election Integrity
Mike Pence and Kris Kobach
Photo credit: AP/Andrew Harnik
–JUNE 28, 2017. All 50 states are sent letters from Kris Kobach — vice chair for the Presidential Advisory Commission on Election Integrity — requesting information on voter fraud, election security and copies of every state's voter roll data. The letter asked state officials to deliver the data within two weeks. In addition to the typical names, ages and addresses on record of registered voters, the commission also asked for Social Security numbers, voting history, and military status, if the state election databases contain it. Vice President Pence is the chair of the commission.
By June 30, officials from at least 24 states stated they will not fully comply with the request. Republican Secretary of State of Mississippi Delbert Hosemann said his reply would be: "They can go jump in the Gulf of Mexico."
Alex Padilla, Secretary of State of California, stated he would not send the information because it would "only serve to legitimize the false and already debunked claims of massive voter fraud." Governor of Virginia Terry McAuliffe and Secretary of State of Kentucky Alison Lundergan Grimes called the commission a vehicle for "voter suppression."
Kris Kobach, also the Secretary of State of Kansas, has been called the American most closely associated with voter suppression. Ari Berman: "Kobach's chilling narrative of deceitful foreigners subverting democracy has served him well. Making people believe that voter fraud is rampant builds public support for policies that restrict access to the ballot. And claims of illegal voting by noncitizens help justify Kobach's hard-line anti-immigration agenda. This has given Kobach a powerful political constituency, not least of which is the president himself."
A study by Stanford University of the Interstate Crosscheck Program previously promulgated by Kobach found that that program's "purging strategy would eliminate about 200 registrations used to cast legitimate votes for every one registration used to cast a double vote."
"I have every reason to think that given the shoddy work that Mr. Kobach has done in this area in the past that this is going to be yet another boondoggle and a propaganda tool that tries to inflate the problem of double registration beyond what it actually is," Dale Ho, the director of the ACLU's Voting Rights Project, said. [ProPublica, June 29, 2017, "Presidential Commission Demands Massive Amounts of State Voter Data"]
[NY Magazine, June 30, 2017, "State Officials Are Not Cooperating With Trump's 'Voter Fraud' Panel"] [New York Times Magazine, June 13, 2007, by Ari Berman, "The Man Behind Trump's Voter-Fraud Obsession: How Kris Kobach, the Kansas secretary of state, plans to remake America through restrictive voting and immigration laws"][Stanford University study, November 4, 2016, "One Person, One Vote:
Estimating the Prevalence of Double Voting
in U.S. Presidential Elections"] [Philadelphia Inquirer, June 30, 2017, "Gov. Wolf rebuffs Trump voter fraud commission"]
–JUNE 29, 2017. Keith Schiller, part of Trump's inner circle, is on the witness list for the House Intelligence Committee, sources told ABC News. Schiller was Trump's former bodyguard and is now the White House director of Oval Office operations. "A former New York police officer, Schiller has been at Trump's side for nearly 20 years and is one of his closest advisers and aides — playing the role of a body man, confidant and gatekeeper. When Trump made the decision to fire FBI Director James Comey, it was Schiller who hand-delivered the letter of termination from the president to FBI headquarters." [ABC News, June 29, 2017, "Trump's longtime bodyguard-turned-White House aide Keith Schiller eyed in House's Russia probe, sources say"]
A long-time GOP operative has told the Wall Street Journal of his attempts to get hackers, including Russians, to hack and publish Hillary Clinton's 30,000 emails last fall before the election. The operative, Peter W. Smith, was apparently operating independently but implied he had connections to Michael Flynn and other top advisers to the Trump campaign, including Bannon and Conway.
–JUNE 29-JULY 1, 2017. Today for the first time evidence is published that, if true, could be a thread linking people connected to the Trump campaign with Russian operatives. A long-time GOP operative, implying he had connections to Michael Flynn, attempted in July through September 2016 to track down Hillary Clinton's infamous 30,000+ deleted emails and get them released publicly. To do this, the operative, Peter W. Smith attempted to reach several hacker groups, including at least two that Smith believed to be Russia-tied.
"Mr. Smith, a private-equity executive from Chicago active in Republican politics, said he assembled a group of technology experts, lawyers and a Russian-speaking investigator based in Europe to acquire emails the group theorized might have been stolen from the private server Mrs. Clinton used as secretary of state," according to the Wall Street Journal.
A computer-security expert from Atlanta who searched hacker forums on Mr. Smith's behalf for people who might have access to the emails, reported that Mr. Smith said, 'I'm talking to Michael Flynn about this — if you find anything, can you let me know?' At the time, retired Lt. Gen. Mike Flynn was a senior Trump campaign advisor with numerous Russian ties. "According to an email of Smith reviewed by the Journal, the GOP operative appeared to pull in people to work with him on seeking the emails, and he also offered these people to introduce them to Flynn's son, Michael G. Flynn, who worked as chief of staff in his father's company."
A September 7, 2016 document sent by Peter Smith to a UK-based security consultant, Matt Tait, had a cover page for opposition research to be gathered by Smith's team. Smith had set up an LLC "to avoid campaign reporting," and included this as one of the groups: "Trump Campaign (in coordination to the extent permitted as an independent expenditure)" and listed a number of senior campaign officials: Steve Bannon, Kellyanne Conway, Sam Clovis, Lt. Gen. Flynn and Lisa Nelson.
The WSJ reporter who broke the story, Shane Harris, wrote that the attempt by Mr. Smith seems to fit in with what is already known by investigators: "The operation Mr. Smith described is consistent with information that has been examined by U.S. investigators probing Russian interference in the elections. Investigators have examined reports from intelligence agencies that describe Russian hackers discussing how to obtain emails from Mrs. Clinton's server and then transmit them to Mr. Flynn via an intermediary, according to U.S. officials with knowledge of the intelligence."
Sometimes, an intelligence operation uses an intermediary, or cut-out, to muddy the waters of attribution, making an operation difficult to trace if discovered.
Mr. Smith died at age 81 on May 14, 2017, which was about 10 days after Shane Harris interviewed him. Initially, the reporter said he has been unable to find out the cause of death of Mr. Smith, even after attempts with family members, associates, and government officials in the town where he lived. Eventually, public records said that Peter Smith killed himself in a Minnesota hotel room near the Mayo Clinic, leaving a statement police called a suicide note, noting his ill health.
Harris did note, in a CNN interview: "We should also say, for context, Peter Smith is sort of a notorious figure in the Clintons' political history. He's been responsible for bringing a lot of allegations, including some unproven and unfounded ones, about President Clinton to light in conservative press in the early 1990s."
A Trump campaign official said Smith didn't work for the campaign and Flynn, if he was involved, was participating in a personal capacity, not as a campaign official, Slate reported.
[Wall Street Journal, June 29, 2017, by Shane Harris, "GOP Operative Sought Clinton Emails From Hackers, Implied a Connection to Flynn"] [Wall Street Journal, July 1, 2017, "GOP Activist Who Sought Clinton Emails Cited Trump Campaign Officials"] [Vox, June 29, 2017, "A new report raises some big questions about Michael Flynn and Russian hackers; The Wall Street Journal describes how one Trump supporter reached out to hackers — and dropped Flynn's name."] [International Business Times, June 30, 2017, "Who Was Peter W Smith? GOP Operative Implied Michael Flynn Tie To Seek Clinton Emails From Russian Hackers"] [Raw Story, June 30, 2017, "WSJ reporter: No one will tell me how GOP source who tried to get Hillary's emails from Russia died"] [CNN, June 30, 2017, "June 30, 2017 Transcript"] [Slate, June 29, 2017, "GOP Operative Attempted to Collude With Hackers He Thought Were Russian to Get Hacked Clinton Emails"] [LawFare Blog, June 30, 2017, by Matt Tait, "The Time I Got Recruited to Collude with the Russians"] [Chicago Tribune, July 13, 2017, "Peter W. Smith, GOP operative who sought Clinton's emails from Russian hackers, committed suicide, records show"]. PLEASE SEE ALSO July 2016 entry about Matt Tait being contacted by Peter Smith.

Illustration: David Barrett – Smackiepipe Productions
–EARLY JULY, 2017. Special Counsel Robert Mueller has begun investigating possible money laundering by Paul Manafort, according to a person familiar with the matter. The inquiry angle began "several weeks" before the WSJ report, published on July 20. The Senate and House Intelligence Committees are also investigating possible money laundering by Manafort. [Wall Street Journal, July 20, 2017, "Special Counsel Investigating Possible Money Laundering by Paul Manafort"]

Illustration: David Barrett – Smackiepipe Productions
–JULY 7-8, 2017. At the Group of 20 meeting in Hamburg, Trump and US Secretary of State Rex Tillerson meet with Putin and Russian Foreign Minister Sergei Lavrov. However, there was a second, undisclosed hour-long conversation between Trump and Putin with only the Russian translator present, during a dinner for G-20 leaders. Trump did not have a translator for Russian; reporters traveling with the White House were not informed of the discussion, and there was no formal readout of it. "Leaders who witnessed the meeting were 'bemused, nonplussed, befuddled' by the animated conversation, held in full view — but apparently not within listening distance — of others present." [Washington Post, July 19, 2017 "There are no notes on Trump's meeting with Putin. That's a big deal."] [Washington Post, July 18, 2017, "Trump had undisclosed hour-long meeting with Putin at G-20 summit"
–JULY 12, 2017. Another investigation of the Trump campaign has begun, this one adjudicated by a judge rather than congressional committees or the Special Counsel Robert Mueller. Two Democratic Party donors and a former party staff member have filed an invasion of privacy lawsuit against President Trump's campaign and longtime informal adviser, Roger J. Stone Jr.. The suit accuses them of conspiring in the release of hacked Democratic emails and files that exposed their personal information to the public. The case was organized by Protect Democracy, a government watchdog group run by former Obama administration lawyers. One of the plaintiffs, Scott Comer, was chief of staff in the finance department of the Democratic National Committee. [New York Times, July 12, 2017, "Trump Campaign Is Sued Over Leaked Emails Linked to Russians"]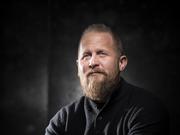 Brad Parscale
Photo credit: Carlos Javier Sanches, San Antonio Business Journal
–JULY 14, 2017. The data and digital director for Trump's presidential campaign said he will speak with the House Intelligence committee later this month as part of its own Russia probe. Kushner had hired Brad Parscale in 2015. Parscale said in a statement that he is "unaware of any Russian involvement" in the data and digital operations but will voluntarily appear before the panel. "Parscale's company raked in about $90 million for work targeting many states with paid advertisements, social media messages and other cyber tools." [AP, July 14, 2017, "Russian-American lobbyist joined Trump's son's meeting, too"] [McClatchy DC Bureau, July 12, 2017, "Trump-Russia investigators probe Jared Kushner-run digital operation"]
Special Counsel Mueller is using an additional federal grand jury, located in DC. Pressure ramps up, with a pre-dawn FBI raid of Paul Manafort's Northern Virginia home.

Robert Mueller
Photo credit: Greg Nash
–MID TO LATE JULY, 2017. Special Counsel Mueller starts using a federal grand jury in Washington, D.C. as part of the investigation. This is in addition to a grand jury in Northern Virginia that has already been working on the investigation (that one apparently has focused on Flynn). A grand jury can get testimony from witnesses and demand documents. It can also return indictments. Its proceedings are secret, but a person whose documents or testimony is demanded is free to disclose that, or not.
Mueller has already assembled a team of 16 experienced attorneys with experience in international bribery, organized crime and financial fraud. Included on the team is Mueller's expert on Russia, Elizabeth Prelogar, a former Fulbright Scholar in Russia who is fluent in Russian. Also included is James Quarles, who was an assistant special prosecutor in the Watergate investigation and a former partner with Mueller at the law firm WilmerHale. Michael Dreeben, another of Mueller's lawyers, is the Justice Department's top criminal law expert. Andrew Goldstein, who worked under former U.S Attorney Preet Bharara in the Southern District of New York, is likely familiar with the world of New York real estate. Andrew Weissman, who worked on the complex Enron case, is experienced in the art of "flipping" witnesses. Also, just hired is Greg Andres, a fraud specialist who managed a program targeting illegal foreign bribery while previously at the DOJ. [Wall Street Journal, August 4, 2017, "Special Counsel Robert Mueller Impanels Washington Grand Jury in Russia Probe"] [AP, August 4, 2017, "AP Source: Grand Jury Among Mueller's Tools in Russia Probe"] [Reuters, August 1, 2017, "Exclusive: Former Justice Department official joins Mueller team"] [Rolling Stone, August 7, 2017, Why Trump Should Be Afraid With Robert Mueller on the Case">]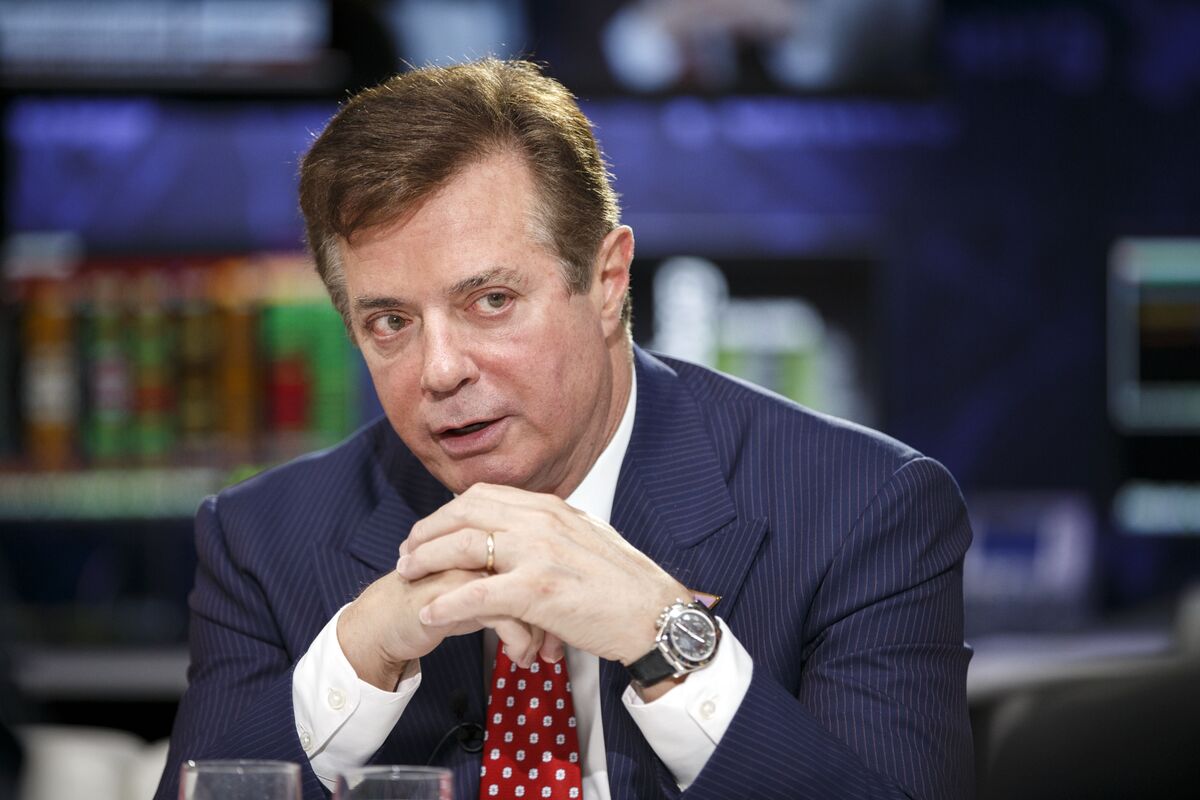 Paul Manafort
Photo credit: Bloomberg
–LATE JULY-EARLY AUGUST, 2017. "Mueller's team of investigators has sent subpoenas from a Washington grand jury to global banks for account information and records of transactions involving Manafort and some of his companies, as well as those of a long-time business partner, Rick Gates, according to people familiar with the matter." Rick Gates's relationship with Manafort dates back to at least 2006.
"Mueller is drawing on investigations that were well underway, including one by federal prosecutors in Manhattan, when he was appointed in May. … Federal prosecutors in Manhattan were investigating Manafort earlier this year, examining allegations that he laundered money from eastern Europe into New York properties, according to two people familiar with the earlier inquiry. … Along with the real-estate inquiry, the special counsel has taken over a review of Manafort's late filings to comply with the foreign-agent registration act."
"Jeffrey Yohai, who is the estranged husband of Manafort's daughter, is under investigation by FBI agents working with prosecutors in the U.S. attorney's office in Los Angeles, according to people familiar with their work. With cash infusions from Manafort, Yohai formed real-estate partnerships that took in investor money in New York and Los Angeles. Some of the partnerships subsequently declared bankruptcy, court filings show. U.S. authorities are now looking into claims by an investor that Yohai operated a Ponzi scheme."
CNN reported on August 11 that Jeffrey Yohai had provided information and documents to DOJ investigators in New York more than two months ago, according to one source. Two sources say DOJ was seeking cooperation related to the federal investigation into Manafort for possible money laundering or tax violations in his business dealings with pro-Russia parties in Ukraine.
Although more stringent rules have been placed on banks, the international real estate business is still a place where foreigners can use cash with fewer questions asked about sources of money.
Those investigating Manafort include various congressional committees, the New York Attorney General and the Manhattan District Attorney. Large payments Manafort apparently received for his work for Viktor Yanukovych, Ukraine's former pro-Putin president, may be a particular focus.
[Bloomberg, August 11, 2017, "With Bank Subpoenas, Mueller Turns Up the Heat on Manafort"] [New York Post, August 10, 2017, "Paul Manafort hiring new legal team amid Mueller probe"] [CNN, August 4, 2017, "One year into the FBI's Russia investigation, Mueller is on the Trump money trail"] [CNN, August 11, 2017, "Manafort's son-in-law met with federal investigators, sources say"]
–JULY 26, 2017. FBI agents raided Paul Manafort's home in Alexandria, Virginia during the pre-dawn hours. Manafort was convention manager, then chief strategist and campaign manager, of the Trump campaign from March to August, 2016. FBI agents seized tax, banking and other documents and materials relating to the Mueller investigation. Since being appointed special counsel, Mueller has taken over a Manafort investigation that was underway. "Manafort has been under increasing pressure as the Mueller team looked into his personal finances and his professional career as a highly paid foreign political consultant.
Agents with a search warrant appeared early the day Manafort was scheduled to testify before the Senate Judiciary Committee. It was the day after he met voluntarily with Senate Intelligence Committee staff members. Sen. Richard Blumenthal (D-Conn.), a member of the Judiciary Committee and a former U.S. attorney said in a statement: "A federal judge signing this warrant would demand persuasive evidence of probable cause that a serious crime has been committed and that less intrusive and dramatic investigative means would be ineffective." "Manafort has provided more than 300 pages of documents to the Senate Judiciary Committee and the Senate and House intelligence committees."
"As a political consultant, Manafort traveled the world, at times offering advice to despots and dictators. His decade of work in Ukraine on behalf of a Russia-friendly political party has drawn attention from the FBI." In June Manafort retroactively filed Foreign Agents Registration Act paperwork with DOJ showing that for its work in Ukraine, his firm was paid $17.1 million.
"State authorities in New York also have issued subpoenas seeking information about Manafort's real estate loans."
After the FBI raid of Manafort's home, Trump quickly sent out 2 tweets about Andrew McCabe. McCabe became acting FBI director after Trump fired Comey. "Why didn't A.G. Sessions replace Acting FBI Director Andrew McCabe," Trump demanded, charging, inaccurately, a conflict of interest. [Washington Post, August 9, 2017 "FBI conducted predawn raid of former Trump campaign chairman Manafort's home"] [New York Times, August 19, 2016 "Paul Manafort Quits Donald Trump's Campaign After a Tumultuous Run"] [Think Progress, August 9, 2017, "Trump called for acting FBI director's firing hours after FBI agents raided Paul Manafort's home"]
–LATE JULY, AUGUST 2 and 7, 2017. In a late July phone call, Trump tried to convince Senate Foreign Relations Chairman Bob Corker (R-Tenn.) that a bipartisan bill sanctioning Russia wasn't good policy. Trump argued that it was unconstitutional and would damage his presidency. Corker was "unrelenting," and "told Trump the bill was going to pass both houses with bipartisan support." The bill cleared Congress overwhelmingly in July, and Trump signed it grudgingly on August 2.
On August 7, Trump phoned Sen. Thom Tillis (R-N.C.), who is "working with Sen. Chris Coons (D-Del.) on a bill designed to protect Robert Mueller, the independent counsel investigating the president's Russia connections, from any attempt by Trump to fire him." One person familiar with the call said Trump was unhappy about the legislation and didn't want it to pass.
During the time interval from late July to August 9, Trump also publicly admonishes Senators including Mitch McConnell, John Cain, and Jeff Flake.
"It seems he is just always focused on Russia," Politico quoted one senior GOP aide as saying. [Politico, August 23, 2017, "http://www.politico.com/story/2017/08/23/trump-senate-yell-phone-calls-241950″>"Trump clashed with multiple GOP senators over Russia"]
–AUGUST 2, 2017. After both houses of Congress overwhelmingly approved new sanctions against Russia, today President Trump grudgingly signed the legislation into law, while insisting that the measure included "clearly unconstitutional provisions." Congress will now be able to block any effort by Trump to unilaterally ease the sanctions. Trump signed the bill privately, without the fanfare that normally accompanies his signings. The Prime Minister of Russia, Dmitry Medvedev, said the sanctions amount to a "full-scale trade war," adding in a Facebook post that they showed the Trump administration had demonstrated "utter powerlessness." The Russian government had already responded after Congress passed the legislation, cutting the American Embassy workers in the Soviet Union. [Reuters, August 2, 2017, "Trump signs Russia sanctions bill, Moscow calls it 'trade war'"] [New York Times, August 2, 2017, "Trump Signs Russian Sanctions Into Law, With Caveats"]

Len Blavatnik
Photo credit: Bloomberg via Getty Images

Mitch McConnell
Photo credit: Politico
–AUGUST 3, 2017. A new investigation shows that a Ukranian-born billionaire, Leonid "Len" Blavatnik, made $7.35 million in contributions to Donald Trump and political actions committees for top Republicans. Blavatnik is the business partner of two of Russian president Vladimir Putin's favorite oligarchs and a Russian government bank.
Senate Majority Leader Mitch McConnell "was the top recipient of Blavatnik's donations, collecting $2.5 million for his GOP Senate Leadership Fund under the names of two of Blavatnik's holding companies, Access Industries and AI Altep Holdings, according to Federal Election Commission documents and OpenSecrets.org." Other top recipients included PACs for Marco Rubio, Scott Walker, Lindsey Graham, John Kasich and John McCain. "In January, Quartz reported that Blavatnik donated another $1 million to Trump's Inaugural Committee. Ironically, the shared address of Blavatnik's companies is directly across the street from Trump Tower on 5th Avenue in New York." Len Blavatnik holds dual citizenship in the U.S. and the U.K. [Dallas Morning News, by Ruth May, August 3, 2017 "Tangled web connects Russian oligarch money to GOP campaigns"]

Michael Flynn
Photo credit: Mediaite
–AUGUST 4, 2017. Mueller's investigators are looking at money flows in and out of Michael Flynn's consulting firm, Flynn Intel Group, according to several potential witnesses who have been interviewed by prosecutors and FBI agents. The investigators have recently asked the White House for documents related to Flynn, who was Trump's first National Security Adviser.
Flynn Intel Group shared office space with White Canvas Group, which was founded by a former special ops officer who was a friend of Flynn's. Reportedly paid $200,000 by the Trump campaign, the White Canvas Group was a data-mining company that is also the target of investigators' questions. [New York Times, August 5, 2017, "Mueller Seeks White House Documents on Flynn"]
–AUGUST 9, 2017. Trump initiates a phone call to Mitch McConnell, in which he accuses the Senate Majority Leader of bungling the health care legislation. The call "quickly devolved into a profane shouting match." Trump "was even more animated about what he intimated was the Senate leader's refusal to protect him from investigations of Russian interference in the 2016 election, according to Republicans briefed on the conversation." [New York Times, August 22, 2017, "McConnell, in Private, Doubts if Trump Can Save Presidency"]

Robert Mueller
Photo credit: Larry Downing/Reuters

Reince Priebus
Photo credit: NBC News
–AUGUST 12, 2017. Special Counsel Robert Mueller is talking with the West Wing about interviewing current and former senior administration officials. Among those is the recently fired White House chief of staff, Reince Priebus. He was involved in major decisions made by Trump during the transition and in the first six months of the administration.
Among the matters Mueller is believed to be pursuing is Trump's decision to fire FBI director James Comey, and whether that was obstruction of justice.
"According to a law enforcement official briefed on the investigation, Mr. Comey met with Mr. Priebus at the White House on Feb. 8 — a week before Mr. Comey said Mr. Trump cornered him in the Oval Office and asked him to end an investigation into Mr. Trump's former national security adviser, Michael T. Flynn. In Mr. Comey's meeting with Mr. Priebus, Mr. Comey told Mr. Priebus about a Justice Department policy that largely bars discussions between White House officials and the F.B.I. about continuing investigations in order to prevent political meddling — or at least the appearance of it — in the bureau's work, according to the law enforcement official. It is not clear whether Mr. Priebus ever relayed that message to the president." Priebus was one of those present at the February 14 meeting between Comey and Trump. It was after Priebus and others were shooed out of the office, during a private one-on-one meeting, Comey later testified, that Trump asked Comey to end the Flynn investigation. [New York Times, August 12, 2017, "Mueller Is Said to Seek Interviews With West Wing in Russia Case"]

Illustration: David Barrett – Smackiepipe Productions
–AUGUST 18, 2017. Steve Bannon, after a turbulent run as chief strategist at the White House, is out of that job. Bannon has been a Trump connection to right-wing nationalists, and has seemed to embrace chaos. During the Trump campaign, megadonor Robert and Rebekah Mercer brought in millions of dollars, and by some accounts, pushed for Bannon to have a major role in the administration. Bannon was prominent in his former role as executive chairman in the right-wing media outlet Breitbart, which has also gotten major financial support (ten million dollars) from the billionaire Mercers. Among other positions, Robert Mercer has argued that climate change concerns were overblown, and that the Civil Rights Act of 1964 was a mistake. Cambridge Analytica, a cutting-edge data operation that ramped up during the campaign, was owned principally by Robert Mercer. One provocative headline today is: "President Trump Fires Robert And Rebekah Mercer." [New York Times, August 18, 2017, "Stephen Bannon Out at the White House After Turbulent Run"] [Newsweek, November 21, 2016, "MEET ROBERT MERCER, THE MYSTERIOUS BILLIONAIRE BENEFACTOR OF BREITBART"] [New Yorker, by Jane Mayer, March 27, 2017, "The Reclusive Hedge-Fund Tycoon Behind the Trump Presidency"]
–SEPTEMBER 1, 2017. Robert Mueller has obtained a letter drafted by Trump revealing his thinking about Comey, just before firing him. The letter was drafted with a top aide during a long weekend (May 4-8, 2017) at his Bedminster golf club. Rain forced Trump to cancel golf and instead he "stewed indoors, worrying about Mr. Comey and the Russia investigation."
Mueller is believed to be investigating a potential case of obstruction of justice. The letter, "angry and meandering" in tone, was discarded in favor of one written by Rod Rosenstein. That one, pointing to Comey's handling of Hillary Clinton's email investigation, was trotted out as the public rationale for firing Comey. [New York Times, September 1, 2017, "Mueller Has Early Draft of Trump Letter Giving Reasons for Firing Comey"] See also the entry for May 4-8, 2017.
–SEPTEMBER 6, 2017. After repeated past denials, Facebook admits to congressional investigators that Russia had "likely" used 470 fake accounts to buy advertising promoting "divisive social and political messages" to Americans. "Facebook officials reported that they traced the ad sales, totaling $100,000, to a Russian 'troll farm' with a history of pushing pro-Kremlin propaganda," reported the Washington Post. A Facebook official said "there is evidence that some of the accounts are linked to a troll farm in St. Petersburg, referred to as the Internet Research Agency, though we have no way to independently confirm." It was Facebook's first public acknowledgment of the role it unwittingly played in the Kremlin's "active measures" campaign.
Two days later, an analyst specializing in Facebook ads estimates those ads "were likely seen by a minimum of 23 million people and might have reached as many as 70 million. … That means up to 28 percent of American adults were swept in by the campaign."
Rep. Adam Schiff said, "Left unanswered in what we received from Facebook — because it is beyond the scope of what they are able to determine — is whether there was any coordination between these social media trolls and the campaign. We have to get to the bottom of that." [Daily Beast, September 8, 2017, "Russia's Facebook Fake News Could Have Reached 70 Million Americans"] [Washington Post, September, 2017, "Russian firm tied to pro-Kremlin propaganda advertised on Facebook during election"]

George Papadopolous
Photo credit: The National Herald
–OCTOBER 5, 2017. George Papadopoulos, a former foreign policy adviser to the Trump Campaign, pleads guilty to various counts, including lying to the FBI, impeding the FBI's ongoing investigation into the existence of any links or coordination between the Trump Campaign and the Russian government's efforts to interfere with the 2016 presidential election. (This was unsealed on October 30, 2017.) This is the first guilty plea of the Mueller investigation. [Criminal Action in US District Court for the District of Columbia, United States of America v. George Papadopoulos, Statement of the Offense (agreed to by Papadopoulos), filed October 5, 2017, released October 30, 2017.]
Please see also: Part 1 and Part 2, below.
Categories: Trump, Russia, timeline, investigation, Comey, Flynn, Pence, Sessions, 2016 Election, Mueller, Preet Bharara, Kislyak, Kushner, Paul Manafort, Rick Gates, Jeffrey Yohai, Felix Sater, emoluments, Peter W. Smith, Kris Kobach, Brad Parscale, Donald Trump, Jr., Natalia Veselnitskaya, Sen. Bob Corker, Len Blavatnik, Mitch McConnell, Reince Priebus, Steve Bannon, Robert Mercer, Rebekah Mercer, Don McGahn, Facebook, George Papadopoulos.
All Rights Reserved.